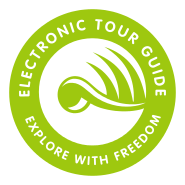 Categories
Search
Recently
The official Electronic Tour Guide project blog
Valentine's surprise
Posted: February 13, 2013 at 11:46 pm, Category: News,
Hello, my dear friends! I have just heard that today is a special day for the loved ones on the Earth – Saint Valentine's Day. There is similar holiday on my planet, called 01000101 01100100 01101001 01110101 01100111 01100101 01110110 01101111 01101100. Oh, I cannot get used to the fact that you don't speak Binarish Numerish. In your language it means Ediugevol. Yes, it is a little bit hard for you to pronounce, Earthmen, but…
Anyway, we have a surprise for couples. You can get loudspeaker and headset splitter absolutely for free till the end of this month! Walk together, explore together. Happy St. Valentine's Day!
Jump to comment form
|
comments rss
|
Comments
Please leave your comment here