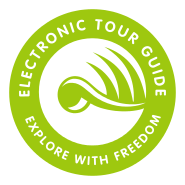 Categories
Search
Recently
The official Electronic Tour Guide project blog
ETG coming to Spain, Guadalest partners starting the service
Posted: September 19, 2015 at 8:56 am, Category: Partners,
We are glad to announce that our partners in Guadalets (Spain) start to provide the service with our devices today. All devices are equipped with RFID reader that make possible to enjoy stories inside the Orduña House Museum as well as outside during the walk around this tiny and beautiful city — the hidden pearl in the heart of Spain.

FedEx introduced new rules for the transport of LiPo batteries. So I had to go and bring the whole butch of devices to Paris, where we have an agreement for a meeting. The moment of the solemn transfer of the batch of ETG devices to our happy client. Gare du Nord, Paris.
Jump to comment form
|
comments rss
|
Comments
Please leave your comment here